London Fashion Week Highlights
Fashion week surely does fly by. Unfortunately, we are at the end of London Fashion week and what a week it has been. Inspiring and creative, London Fashion week also shows what great talent we have. Even though its been hard to narrow down our favourite shows, we have chosen our top 5 from the past week.
Versus Versace
A collection inspired from rock n roll with a strong 90's influence. A darker colour palette was prevalent with tough biker jackets and buckles being added into most pieces. Metallics and chainmail were used as well as additions of khaki and bright yellow. There was a contrast between masculine and femininity with the use of boxy shoulder shapes then flared mini skirts. The show was rounded up with heavily ripped pale blue denim pieces that had tons of attitude.
Markus Lupfer
Florals have been toughened up this season being contrasted with dark mesh fabrics, chained belts and half worn coats. Topped up with a combination of trainers and sliders which gives the look a slight sports feel. Bombers were also a key focus along with longer lengths. Prints however were a big deal, from super feminine florals to 70's inspired vertical stripes that were either pleated or ruffled for that extra texture.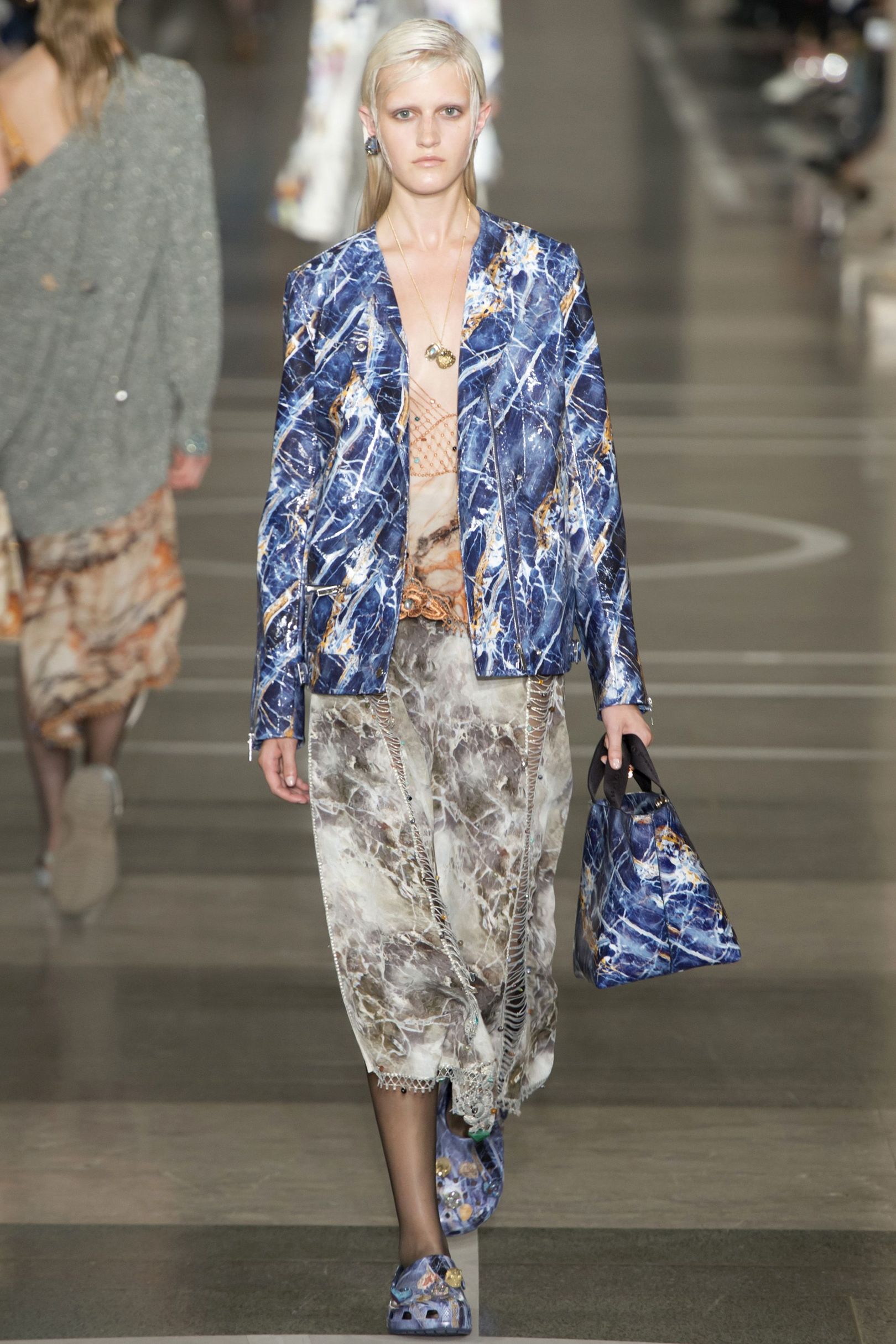 Christoper Kane
One thing we never expected to see on the catwalk has seen a lot of attention. That is crocs, yes crocs! Crocs were seen on models in marbled prints and featured embellishment. The collection featured various influences from different time periods. Along with a variety of prints from abstract to retro florals then followed by vintage marbled dresses. Long lengths with sheer and metallic fabrics seemed to be the forefront with the addition of delicate lace and oversized fur coats.
Anya Hindmarch
Minimalism with a sense of fun is the perfect way to describe Anya's S/S17 collection. Inspired by art and geometry with a retro twist. The collection focused heavily on long length coats in a colour palette that varied from crisp white, to coral, lavender, mustard and lime. Detail was added with 3d embellishment of simplistic shapes in a formation. Grown up and feminine but still with an added sense of fun with bold accessories. Such as smiley face and fried egg prints featured on scarves and sliders.
Burberry
A show that signifies British heritage. Their S/S17 show was full of rich brocade prints and luxurious fabrics. Of course the classic trench coat was present however was reworked. Shorter shapes, sleeveless and patterned trenches made an appearance on the catwalk. Layers were also significant, featuring a contrast of printed fabrics from florals to vertical stripes but with a more autumnal colour palette. Sheer ruffled lace was also added to most pieces along with studded accessories.