H&M's Best Designer Collaborations
H&M best known for its high street affordable fashion, changed the divide between high end and high street back in 2004, with its first designer collaboration with Karl Lagerfeld. With the news of Kenzo being this year's designer collaboration, we have a look back at the H&M designer collaborations that have occured over the years.
2004 – Karl Lagerfeld
The first of H&M's designer collaborations, that was so successful it sold out within minutes. The collection contained both womenswear and menswear and was able to reach a wider audience who love fashion but don't have the income, inspiring H&M for future collaborations.
2005 - Stella McCartney
A year after the Lagerfeld collaboration success. McCartney teamed up with H&M creating a collection inspired heavily by her line, with a lot of focus on strong tailoring from formal blazers and blouses to chic dresses.
2006 - Viktor & Rolf
The fashion duo took inspiration from wedding dresses to create a collection that focused on femininity. Staying true to their signature style and incorporating ready to wear with high-street.
2007 - Robert Cavalli
The Italian designer created a collection that stood out with its glamourous and sexy pieces. Using gold, sequins and animal prints for the ultimate bold, party collection.
2008 - Comme des Garçons
The Japanese label stayed true to its unique brand by creating a collection full of great statement items. The collection focused mainly on winter wear, yet injected bold colours and polka dot prints to keep it fun yet wearable.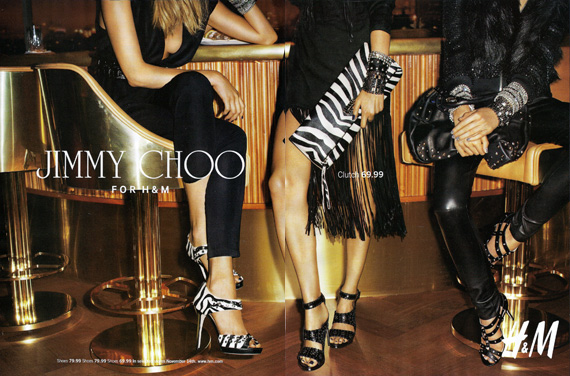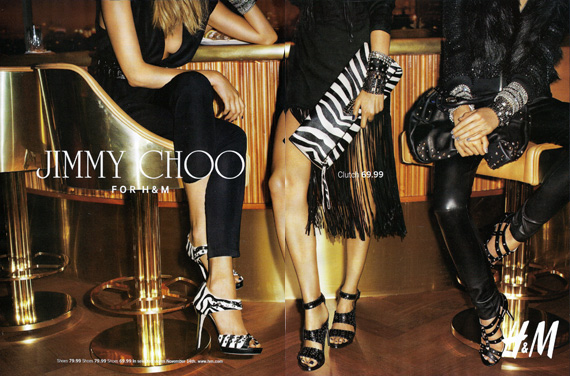 2009 - Jimmy Choo
A party wear collection, featuring dresses, accessories and of course shoes. All items focused on bold statement colours, studs, crystals and animals prints, remaining true to the brands signature style.
2010 - Lanvin
The extravagant Parisian brand teamed up with H&M to create a collection full of bold statement party pieces. From t-shirts, accessories and dresses still managing to feature tons of texture and detail.
2011 – Versace
A fierce collection that focused on patterned fabrics and an array of bright neon colours. The collaboration was widely popular and caused huge excitement which lead to a further resort collection being released in 2012.
2012 - Marni
The brand brought fun to its collaboration with H&M, with the use of its signature graphic prints and show stopping colours. Offering a great mix of unique items for both womenswear and menswear.
2013 - Isabel Marant
A chic Parisian inspired collection focusing on casual and relaxed pieces from knitwear to oversized t-shirts and perfect outerwear. It's no wonder why these pieces sold out fast.
2014 - Alexander Wang
The first American designer to collaborate with H&M. Wang created a collection similar to his ready to wear line focusing on a dark colour palette and inspired by functional sportswear.
2015 – Balmain
The Parisian couture house brought heavy embellishment and femininity with its collaboration. Paired with models such as Kylie Jenner and Gigi Hadid for max popularity. This collection was one that was highly hyped up and no surprise that it sold out in minutes.
H&M surely knows who to collaborate and with Kenzo for this year. We cant wait for it to be November, for this to launch.